System Update
Updating your system will provide you with the latest software and improve functionality.
Update Details
| | |
| --- | --- |
| Supported Models | WSD-F21HR |
| Update Start Date | February 9, 2021 (JST) |
| Version Number after Update (Build number) | PWDO.191108.001.A5 |
| Size | 106MB |
Update Description
● Updates security patches (to enhance security).


Update Method
Updates are performed automatically. It may take some time before your watch is updated.
While an update is in progress, never hold down the power button in an attempt to restart the watch system. Doing so may make the watch unusable.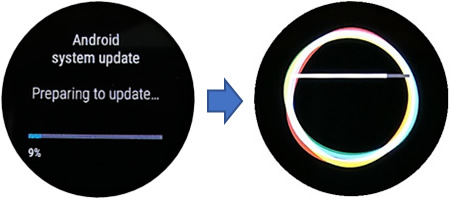 Never try to restart the watch system while the above is displayed.
●Make sure the watch's charge level is at least 80% before updating. Also, connect the charger to the watch and pair it with a smartphone for updating.
●For iPhone users, you should be in an environment where Wi-Fi is available.
●Watches are sequentially updated worldwide. It takes about one week to finish updating all watches.
●Visit the site below for information about the update operation procedure.
Wear OS by Google Help