Support
Smart Outdoor Watch
WSD Series
Extend Mode Tutorial
Using the Extend Mode makes outdoor activities more enjoyable!
The Extend Mode really comes in handy for treks or other activities that extend over multiple days.
• Logging starts, stops, and resumes at times that are preset by you.
• Even without charging, the watch is capable of logging track data for three days and two nights (based on eight hours of GPS tracking and map display per day ).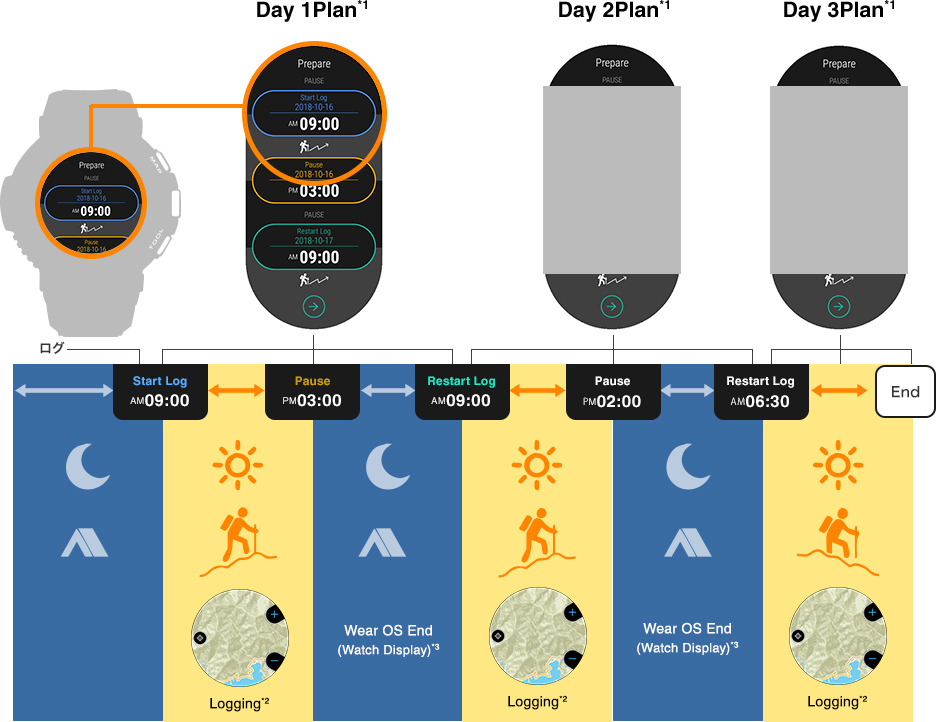 *1 For a plan, you specify the logging start time and pause time for a day, and the logging resume time for the following day.
*2 A map or the monochrome watch screen is displayed during logging.
*3 While logging is paused, the watch exits Wear OS by Google™ and displays the timekeeping screen (with the time logging will resume shown in the lower display segment).
Precautions when Using the Extend Mode
• Before performing a location information logging operation with the Extend Mode app, be sure to first download a map that covers the entire area where you plan to be moving around while logging. For details, refer to "Downloading Mapbox Maps" in the User's Guide.
• Wi-Fi and Bluetooth are automatically disabled during logging. Because of this, notifications from the phone and all other phone linking operations are disabled.
• While logging, displaying a screen other than the Extend Mode screen (another app screen or a watch face) will increase power consumption. If another screen is displayed, tap "Extend Mode" on the app menu as soon as possible to return to the Extend Mode screen.
• None of the items below can be used while Extend Mode app logging operation is being performed.

- Location Memory, Point Navigation, all activity apps
- MOMENT SETTER notifications

• Location information logging stops whenever remaining battery power is 3% or lower.