[Data] Concert Play Expanded Song Data
Supported Models
AP-700, AP-710, GP-300, GP-310, GP-400, GP-500, GP-510
* These files are available for only customers who purchased the instruments included in "Supported Models".

Download Files

Each piece is set the degree of difficulty from A(easy) to C(difficult).
Release Date

Title / Composer

Level

Download File

Display

Sep. 02, '15
Sonate Op.27-2 "Moonlight" 1st Mov. / L.v.Beethoven

B

MOONLI_1
Gymnopédie No.1 / E.Satie

B

GYMNOPE1
Tableaux d'Une Exposition "Il Vecchio Castello" / M.Mussorgsky

B

CASTELLO
Twinkle Twinkle Little Star / French Folk Song

A

TWINKLE
Piano Concerto No.21 K.467 2nd Mov. / W.A.Mozart

C

P_K467_2
Piano Concerto No.1 Op.23 2nd Mov. / P.I.Tchaikovsky

B

PC23_2_T
Pavane / G.Fauré

C

PAVANE
Andante Cantabile / P.I.Tchaikovsky

B

CANTABIL
Flute Quartet No.4 K.298 1st Mov. / W.A.Mozart

C

F_K298_1
Violin Concerto Op.64 2nd Mov. / F.Mendelssohn

A

VC64_2_M
Nocturne (Ein Sommernachtstraum) / F.Mendelssohn

B

NOC_61_M
Ause's Death / E.H.Grieg

A

AUSE'S_D
Recuerdos De La Alhambra / F.Tárrega

B

ALHAMBRA
Lied Auf Dem Abendstern (Tannhäuser) / R.Wagner

B

ABENDSTE
Wiegenlied / B.Flies

A

WIEGENLI
Una Furtiva Lagrima (L'elisir D'amore) / G.Donizetti

A

LAGRIMA
Après Un Rêve / G.Fauré

C

APRES_RE
Neko Funjatta / Unknown

A

NEKOFUNJ
Go Tell Aunt Rhody / J.J.Rousseau

A

GOTELLAU
Under The Spreading Chestnut Tree / British Folk Song

A

CHESTNUT
Feb. 15, '16
Arabesque No.1 / C.A.Debussy

C

ARABESQ1
Träumerei / R.A.Schumann

B

TRAUMERE
Walzer Op.39-15 / J.Brahms

A

WAL39-15
Menuet BWV Anh.114 [Clavierbüchlein der Anna Magdalena Bach] / C.Petzold

A

MENUET_P
Troika / P.I.Tchaikovsky

B

TROIKA
Symphony No.9 Op.95 2nd Mov. / A.Dvořák

B

NEWWORLD
Rosamunde / F.P.Schubert

A

ROSAMUND
Habanera (Carmen) / G.Bizet

B

HABANERA
An Die Musik / F.P.Schubert

B

DIEMUSIK
Largo "Ombra Mai Fu" (Serse) / G.F.Händel

A

OMBRAMAI
Auf Flügeln Des Gesanges / F.Mendelssohn

C

FLUGELN
The Entertainer / S.Joplin

B

ENTERTAI
Grandfather's Clock / H.C.Work

A

G'S_CLOC
Londonderry Air / Old Irish Melody

B

LONDONDE
Jingle Bells / J.Pierpont

B

JINGLE_B
* About scores and audio data
・ The format of scores are PDF. You can display by Acrobat Reader or other softwares on your PC and print them.
・ You need to copy audio data files(LSN/PLY format) into "CP" directory of a USB flash drive to use by the Concert Play function.
・ Audio data(LSN/PLY format) are only for Concert Play.
・ Please confirm the manual for the details.
* About how to read a score
・ Please read "CONCERT PLAY PIANO SCORES" for the details.
* About a password
・ Downloaded files which include two audio data(LSN, PLY format) and one score data(PDF format) is compressed in zip format. You need to uncompress before use. These zip files are protected by a password. The password, uppercase alphabetic 7 characters which begins with "C" and ends with "T", is exists at a portion indicated by a red frame in a following photograph. Please enter the word when you uncompress a zip file.
・ AP-700, AP-710

・ GP-300, GP-310, GP-400, GP-500, GP-510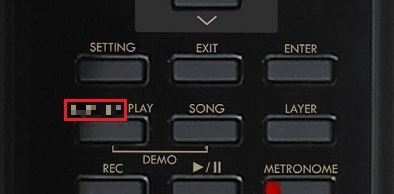 How to download the data
Please click the download link of the piece which you would like to download.
The downloaded file is compressed in zip format.
How to install the data
* Be sure to format a USB flash drive on the Digital Piano before using it for the first time.
・ If you format a USB flash drive, all data in it will be deleted.
・ Before formatting a USB flash drive, make sure it does not have any valuable data stored on it.
・ The format operation performed by this Digital Piano is a "quick format".
・ Please confirm the manual for the details.
1. Copy the Concert Play files (both the .LSN and .PLY files) from your computer to the CP folder on the USB flash drive.
2. Insert the USB flash drive into the Digital Piano's USB flash drive port.
3. Press the CONCERT PLAY button.
4. Press the ">" button. This will cause "USB" to appear in the upper right corner of the screen.
5. Select a song and then press the "ENTER" button.
6. Select the Play Mode or the Listen Mode by using the "CONCERT PLAY" button, and press the "PLAY" button to start playback.